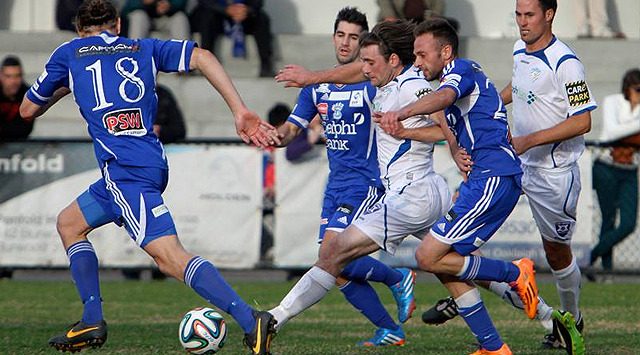 Original Version from FFV
By Bill Molloy (@Bill_Molloy94)
Oakleigh Cannons and Northcote City split the points in a 1-1 draw on Sunday, in a performance which Oakleigh coach Miron Bleiberg described as the Cannons' "worst game" of the season.
Northcote substitute Wade Dekker cancelled out Nate Foster's opener to earn the away side a point, though Oakleigh still sits in second place and remains undefeated after its first nine games.
The game got off to a fierce start with heavy challenges from both sets of players, leaving referee Lucien Laverdure to take control of the game early.
Oakleigh took the lead in the opening stages through Foster, as goalkeeper John Honos cleared the Northcote defenders with a long ball before Foster smartly chipped the ball over the onrushing Chris Theodoridis.
Oakleigh could have doubled its lead through Dean Piemonte near the half-hour mark as his free-kick was tipped onto the crossbar by Theodoridis. Nonetheless, the home side went into the break with the lead.
The game tightened up in the second half as the Oakleigh defence soaked up pressure from Northcote.
The pressure eventually caved as Liam Wooding hit a low cross into the box and an unmarked Dekker was able to make an immediate impact, having just been brought onto the pitch five minutes earlier.

Northcote looked more likely to score in the closing stages of the game, having already found an equaliser, but an Oakleigh defence remained resolute and neither team could find a decisive goal to take the maximum points.
Oakleigh coach Miron Bleiberg was disappointed with both the result and the performance, but believed his side was lucky to take a point from the game.

"Our worst game…we should be sad that we lost two points but be happy that maybe we got the point because Northcote played out of its skin," Bleiberg said.
Oakleigh remains unbeaten after the draw and Bleiberg was upbeat about where his team sits at this point of the season.
"We can't complain, we are clearly on second spot and we've had a good season…even when we're not playing well we're not losing and we haven't lost for nine games."
Northcote coach Goran Lozanovski, who had just returned from a two-match suspension, was more satisfied with the result given Oakleigh's current form.
"We were unfortunate maybe not to get a result but coming away to Oakleigh who's in form and in second to get a draw was a good result," Lozanovski said.
Lozanovski believed the physical side of the game came from a high intensity from both sets of players.
"We need to be physical in our defensive duties every time. If we do that we'll pick up a lot of loose balls and second balls and keep ourselves on the front foot," he said.
Northcote City hosts Goulburn Valley Suns in Round 10, while Oakleigh visits Pascoe Vale on Friday night in the round's broadcast match.
MATCH DETAILS
Oakleigh Cannons 1 (Foster 18') drew Northcote City 1 (Dekker 73') at Jack Edwards Reserve [HT: 1-0]
Oakleigh Cannons: 1. John Honos (GK) 7. Bonel Obradovic (20. Jordan Lowdon 64') 5. Aron Wilford 18. Adam Le Cornu 19. Goran Zoric 21. Andreas Govas 11. Evan Christodoulou 23. Dominic D'Angelo 8. Dusan Bosnjak 14. Nate Foster (10. Veton Korcari 76') 17. Dean Piemonte (25. Stelios Konstantinidis 68')
Unused subs: 35. Branislav Karaga 2. Thomas Lakic
Yellow cards: 14. Nate Foster (41') 11. Evan Christodoulou (83')
Red cards: None
Northcote City: 22. Chris Theodoridis (GK) 4. Kristian Konstantinidis 16. Greg Lombardo 2. Adrian Chiappetta 3. Tremayne Sadler 11. Liam Wooding 23. Jonathan Bounas (7. Jonathan Munoz 80') 10. Marino Gasparis 21. Ersin Kaya (15. Wade Dekker 68') 8. James Kalifatidis (20. Evan Kounavelis 83') 9. Trent Rixon
Unused subs: 1. Luke Gavalas (GK) 14. Miichael Catalano
Yellow cards: 2. Adrian Chiappetta (39')
Red cards: None